The BBC have conducted a survey of elite British sportswomen revealing a shocking trend in aborting babies.
The survey revealed that over 4% of respondents have had abortions, because they felt a baby would affect their sporting careers.
This is more than twice the average rate of abortions in England and Wales over the past decade.
The BBC interviewed a top female athlete - whose identity they have protected - who claimed:
"It was a very easy decision to make. The day after the operation, I won a race."
"I was 21. I knew life would be over for me doing what I wanted to do in my sport," says Lucy, one of the 22 women of 537 survey respondents who said she has had an abortion.
"You just couldn't do what I went on to do. The risks are high in my sport. You're either in or out. It only really worked for me when I didn't have any responsibilities to anyone else.
"I don't regret it at all.
"I very much kept it to myself. I've never spoken about it. I never told anyone - it's bit of an amazing feat at such a young age that I just went and sorted it out and then carried on as if nothing had happened."
An anonymous rugby player, who is already a mother, said she had an abortion because she was concerned that a scar from a C-section might erupt as a result of repeatedly crouching in the scrum,
She stated:
"I wanted to have another child but I knew if I did I wouldn't be able to play my game any more,"
"I didn't want to give up my sport."
Jodie Grinham - a British archer who represented Great Britain at the 2016 Summer Paralympics - said, whilst she has not had to make the decision yet, she would chose to abort her baby rather than affect her sporting career.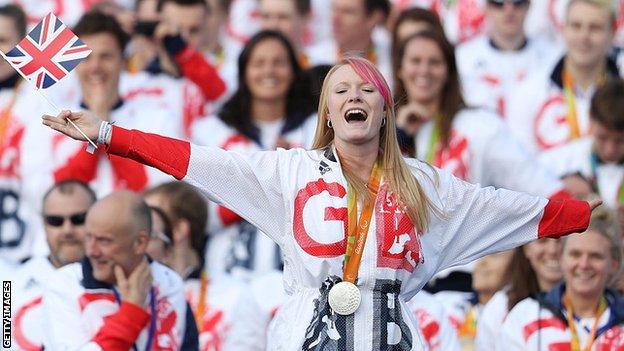 Jodie Grinham won a silver medal at the 2016 Rio Paralympics
Grinham told the BBC:
"Sadly that's something that my partner and I have had to speak about - what if…?"
"It's a hard one. I sit there with tears in my eyes because it's so hard to say. It's really hard to say to your partner who really wants a baby: Look, I love you with all my heart but if we were to fall pregnant, we wouldn't be able to keep it.
"It's very hard to say: 'I love you but I wouldn't have your child right now.' It's awful, it really is.
"We put so many measures in place to make sure that would never be able to happen. I've put my body under different stresses, different mood swings just so I make sure I can go and compete and have my career. It's bloody hard to have those conversations but we are so lucky we can."
Sanya Richards-Ross won a gold medal at the 2012 Summer Olympics
In 2017, Jamaican-American former Olympic 400m champion, Sanya Richards-Ross, revealed she had aborted her baby a day before leaving for the 2008 Beijing Games, where she won a gold and bronze medal.
Sanya Richards-Ross made the shocking revelation that "every female athlete" she knew had had an abortion, but the issue was "not talked about" and that she felt she had "helped other women" by speaking publicly about it.
The survey also revealed that just over one in three (34%) of the elite British sportswomen have delayed starting a family because they consider their sporting careers to be a priority over having children.